Another way that you love your enemy is this: When the opportunity presents itself for you to defeat your enemy, that is the time which you must not do it. There will come a time, in many instances, when the person who hates you most, the person who has misused you most, the person who has gossiped about you most, the person who has spread false rumors about you most, there will come a time when you will have an opportunity to defeat that person. It might be in terms of a recommendation for a job; it might be in terms of helping that person to make some move in life. That's the time you must do it. That is the meaning of love. In the final analysis, love is not this sentimental something that we talk about. It's not merely an emotional something. Love is creative, understanding goodwill for all men. It is the refusal to defeat any individual. When you rise to the level of love, of its great beauty and power, you seek only to defeat evil systems. Individuals who happen to be caught up in that system, you love, but you seek to defeat the system.

Martin Luther King, Jr.: Sermon on loving your enemies  (link)
Three Billboards Outside Ebbing, Missouri is a top contender for an Oscar this season,  in a field with several other great films like Get Out (perhaps the best horror movie I've ever seen) and Dunkirk (chilling sound design + interesting manipulation of the timeline in the storytelling), this festival darling has gotten a lot of attention since the turn of the year.
Three Billboards has sparked controversy too regarding whether it exhibits blind spots about race and police brutality. I figured I'd have to wait for rental since the film is completely off-market here in the South for the types of movies that open at our theaters, so I was pleasantly surprised it finally opened here.
Three Billboards is a raw film, a brutal and unflinching observation of human nature at war with injustice.  ]
Briefly (spoilers): the plot centers on Mildred, a working-class single mother whose teen daughter was raped, murdered, and burned seven months ago in a little fictional town in Missouri. Mildred gets the idea to put up three huge billboards calling out the town's police chief for not cracking the case, leaving her daughter's killer at large and herself with a gaping hole and a lot of anger.  The film is told through the perspectives of several characters, mostly Mildred and the police chief Willoughby and his deputy Dixon.
In an early shot, a supporting character reads from Flannery O'Conoor's "A Good Man is Hard to Find." The homage to Flannery's work in this film is unmistakable.  Martin McDonaugh, the writer and director, is Irish, but he's clearly a fan of Southern Gothic themes.  And I'd say her stamp on this film is critical to understanding the story rightly, lest the viewer misunderstand the layers of irony at work. Were Flannery alive today and writing film scripts, I'd easily say this one were hers.

Why is the film controversial? Well, language for one. Mildred in particular is quite unhindered in her vulgarities, caring little whether her language or behavior offends her audience. For her, the injustice of an unsolved brutal crime makes social "rules" irrelevant.  In one scene, she screams at high schoolers who mock her son and wear their parents' judgmental stance as their own. Her words escalate to physical violence. It's a "balls to the wall" moment, but not without cost. When grief and anger drive one's actions, a lot of people get hurt who don't actually deserve it.  That's a central point of this film, one that the writer put on a billboard so you couldn't forget it.
Some have criticized the film for offering only a white woman's POV of crime and injustice, when the narrative repeatedly refers to Deputy Dixon's racism and brutality as a cop without providing details. Several times he is accused of or admits to "torturing" a black suspect in custody but this part of his story is left unexamined. Some have suggested this is a flaw: Is not the systemic injustice of police racism worse than an individual mother's loss? Black bodies are threatened with violence almost constantly, yet we are asked to watch this particular white mother rage at her daughter's murder.
I think that criticism is missing the point here. In Flannery's Southern Gothic storytelling, the reader is usually presented with a whole set of character flaws to consider, operating as a backdrop to egregious evil that's not always showing up holding a sign to announce its presence. In Three Billboards, the problem driving the story is Mildred's relentless drive for justice. But that's not the only problem in Ebbing that needs to be addressed.  I don't think it's a flaw in the writing that McDonaugh expects his viewers to recognize evil when they see it (like a racist deputy) and draw their own conclusions – all while wrestling with whether individuals suffer more because of individual crimes or systemic ones.
Those same critics suggest that Dixon is offered a cheap redemption arc in the second half of the film and this makes his racism all the more inexcusable for the writer to gloss over. Dixon isn't a good man – indeed, any good man (or woman) is hard to find in this town.  He's also a product of a racist and uncaring upbringing (highlighted via the scenes with his mother, who seems more hateful and racist and cruel as Dixon). But every human possess the power of choice, and Dixon uses his in the second half of the film to express a bit of sympathy, perhaps a desire for real justice for Mildred's daughter.
Again, I think the viewers who charge that Dixon is given a redemptive arc he didn't earn  are missing what McDonaugh is trying to do – and why he made sure we saw Flannery O'Connor's name and "A Good Man is Hard to Find" on the screen at the very outset of the story.  In the end, Dixon and Mildred drive off to execute vigilante justice – should they even get that far.  Is that actually justice?  Another great question, one that we aren't allowed to ignore.  As a viewer, I do feel better about Dixon, a bit, by the end, but by no means do I like him or sympathize with his unemployment and broken  life. Nor do I feel comfortable with Mildred, who so thoughtlessly injures the people around her as she lashes out. Her suffering does not give her permission to inflict pain on others.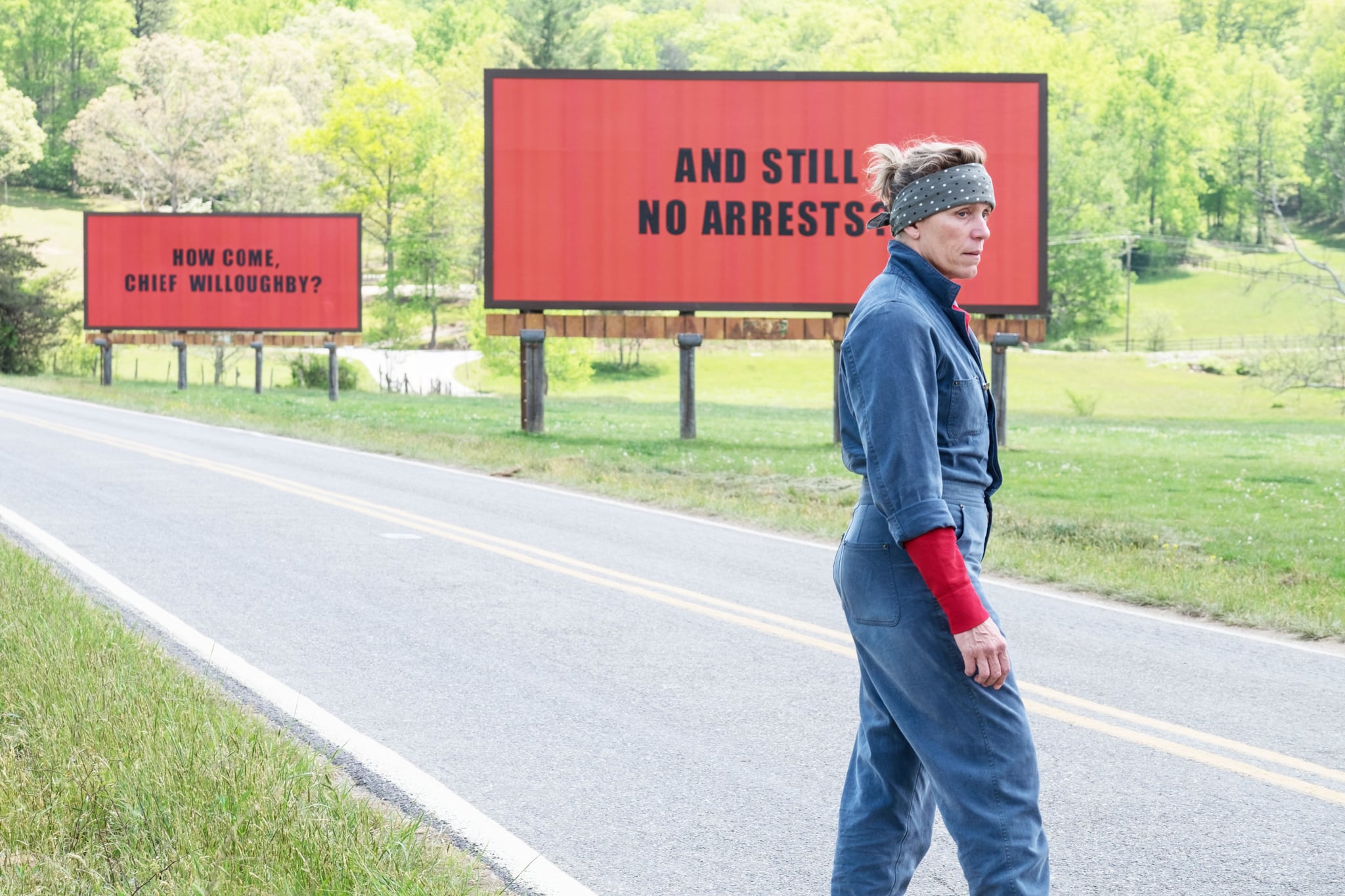 Mildred's actions don't solve the murder. They just bring more pain. At first, we stand with her against the townspeople who hate her for making them remember this crime. They hate her for implying it's the police chief's fault. Woody Harrelson makes Sheriff Willoughby  pretty likable without letting us forget that he's not without blame here too. Like Mildred, his own story is both tragic and sympathetic. His suicide complicates matters for Mildred, after her public shaming of him and disregard for his terminal cancer diagnosis. In his final words to her, he seems to forgive her for it. Should his daughters be so gracious toward her? Or would that be cheap mercy?
O'Connor's unflinching and brutal stories of Southern self-righteousness, hypocrisy, and Grace are not for the faint of heart. While I would say her themes are some of the most Christian that we can find in early 20th century American literature, many of my Christian friends cannot stand to read her. They find the violence and grotesque characters in her story too off-putting to be "proper."  They miss – as do some of the viewers of Three Billboards – the truth that Grace is sharp. It has teeth and claws and a backbone. Real Grace, the kind that can undergird Cross-death and self-sacrifice, changes the receiver as well as the giver. It's nothing like the cheap religiosity which permeates Southern culture, where God and guns and college football and family pride are worshiped at individual shrines. Cultural Christianity – the fake kind – has little beyond platitudes to offer Mildred in her aching grief and searing anger.
In "A Good Man is Hard to Find," a dysfunctional family goes on vacation, gets lost thanks to the self-centered and foolish grandmother, and falls prey to a murderer on some backwater Georgia country road. The killer and the grandmother engage in one of the most memorable fictional discourses about existential good vs evil and human choices. She all but begs for the killer to find the good in his nature to spare them. He's far more prepared than she to identify her Pharisaism and denies her mercy. The story title warns us there won't be any good people in this tale, and there aren't.
In Three Billboards, Mildred seeks justice for her daughter because it's been denied thus far and she's desperate. Does she also see her own flaws and own them honestly? We see flashbacks that any parent could relate to- and feel guilty about. She's not really a great parent, before or after her daughter died.  But she also didn't ask for her daughter to be raped, murdered, and burned. Nobody deserves that.
We see Mildred at the outset of the film as heroic. We're expecting a to like this "nasty woman" on her quest, hard as nails and relentless. McDonaugh turns our expectations sideways, making us squirm as we realize we can't feel entirely sympathetic for anybody on the celluloid before us. The dividing line between good and evil runs through us, not around. Southern Gothic writing – even when written by an Irishman – is always at its best when holding a mirror before our faces, forcing us to see humanity as it really is.
SaveSave
SaveSave